Field & Forest Nature School( Pre-Kindergarten –  Part-time) (3-4 year olds)
For many years now, Discovery has been on a journey to spend more time outdoors and to help children reap the many benefits of having a strong connection to their natural environment.  This journey has brought us to the place where we are about to open what may be Manitoba's first program of its kind.
Our Field and Forest Nature School program (at the time of this writing) is still in the development stage.  The first class is expected to begin in September 2015 and we are very excited to see it come to life.  If you are interested in seeing your child spend extensive time outdoors, much like many of us did when we were growing up, this may indeed be a program that you will want to explore.  Our goals go beyond just having children enjoy the great outdoors, and includes helping children develop a strong attachment to nature, which we hope will help them grow up to be responsibly caregivers of this great planet.
The Field and Forest Nature School is a nature based education program that originated in Europe. Children in this program will regularly visit the same local woodland area at Living Prairie Museum as well as spend extensive time in our outdoor playground area.  Through nature-based child directed learning, children will develop problem solving skills, the ability to interact effectively with others and knowledge across many subject areas.  The Field and Forest Nature School has a loose structure. We understand that children need both structure and routine but freedom within that. We know that children will drive the energy and ideas for the day and each day will be different. It's not just playing outdoors, children are learning about themselves and the world around them.
Why not help your child get their "wildhood" back?
Basic Information
Field and Forest Nature School
– Four year olds (must be 4 years old by Dec. 31 in the year they begin Nursery School Program) who are toilet trained will be accepted for the first year (2015-2016) of this program. We are expecting that both three and four year olds (3 & 4) will be welcomed in subsequent years.
– The program will operate out of our Hampton Street location on Mondays and Fridays, where much of their time will be spent outdoors.  On Wednesdays, weather permitting, children will be dropped off by their parents at the Living Prairie Museum on Ness Avenue where the woodland part of their program will take place.  Pick-up will also happen at the Living Prairie site on Wednesdays.
– Children will attend 3 partial days per week; Monday/Wednesday/Friday 1:00 p.m. – 3:30 p.m.
– Nursery Programs run from mid-September to mid-June each year
Our Staff
Mrs. (Kim) Crockett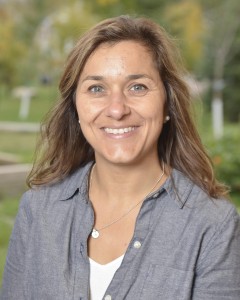 Kim has been a part of our team at Discovery since she first volunteered here as a high school student. She completed her ECE III training with a Diploma in ECE (Red River College) and a Degree in Developmental Studies (U of Winnipeg) after high school and has worked for us in several capacities over the years. Most recently she has served as one of our Nursery School teachers in the French Beginning Nursery classroom. Kim demonstrates great flexibility in adapting to the needs of children and fellow staff members. Her patience and calm approach to challenging situations is seen on a very consistent basis and Kim has a wonderful way of making everyone feel welcome in the classroom.
In 2014 Kim attended a one week training course in Canmore Alberta, sponsored by "Forest School Canada", which makes her the fifth Manitoban to have taken this training. The follow up course work for this program continues for about a year, and once completed she will receive her credentials as a trained Forest Nature School Practitioner. It really has been Kim's keen interest in putting this training to use that led us to start the Field and Forest Program in 2015 here at Discovery Centre.
Our Program
Click Here to view our Curriculum Statement which describes many of the key interests, approaches, and priorities we bring to our time with you and your children. These are fairly standard throughout the programs at Discovery.